MEET OUR ADVISORY COUNCIL.
Overseeing the strategy and direction of the summit is our Chairman and preeminent 17-member advisory council. Our council made up of ten top Chief Information Security Officers, as well as former government security officials, technology innovators, and policy experts.
Founder and Managing Director of Allegis Cyber
Bob Ackerman is referred to as one of "Cyber's Money Men" by major business publications for his experience and leadership in venture capital investing in Cyber Security start-up technology companies. With 20 plus years of experience as a venture capitalist, Bob is the Founder and Managing Director of Silicon Valley-based Cyber Security venture capital firm AllegisCyber, Co-Founder of Columbia, Maryland-based Cyber Start-up Studio DataTribe and the Founder and Executive Chairman of Founder's Equity Partners, a direct secondary investment firm that also invests in cyber security companies. Prior to his career as a venture capitalist, Bob was a serial entrepreneur as a CEO and founder of two successful technology companies, including leading UNIX technology company UniSoft, and InfoGear Technology Corporation, the visionary creator of the original iPhones.
Jim Alcove
CISO of Salesforce
Jim Alkove is the EVP of Security at Salesforce. Jim is responsible leading security end to end across Salesforce. Prior to joining Salesforce, Jim was the VP of Product Engineering and Security for Nest through the launch of the Nest Cam Outdoor. Before Nest, Jim spent 17 years at Microsoft most recently as the Corporate Vice President of Enterprise and Security for Windows where he led the efforts to revitalize commercial Windows through the launch of Windows 10. Prior to Windows, Jim held numerous engineering and leadership roles within Microsoft including Chief Security Officer for Xbox where he led the creation of the silicon to cloud security model for Xbox One
---
Rich Baich
CISO of AIG
Rich Baich is AIG's Chief Information Security Officer. Prior to joining AIG, Rich was the CISO for Wells Fargo and a Principal at Deloitte & Touche where he led the Global Cyber Threat and Vulnerability Management practice. Rich's other security leadership roles include Naval Information Warfare Officer for the National Security Agency, Senior Director for Professional Services at Network Associates (now McAfee) and, after 9/11, as Special Assistant to the Deputy Director for the National Infrastructure Protection Center at the Federal Bureau of Investigation. Rich retired after 20+ years of military service.
---
Mike Chertoff
The former Secretary of Homeland Security and the Chairman of the Chertoff Group
Michael Chertoff is the Executive Chairman and Co-Founder of The Chertoff Group, a global advisory firm that provides business strategy, risk management, and mergers and acquisition (M&A) advisory services to clients seeking to secure and grow their enterprises. From 2005 to 2009, Mr. Chertoff served as Secretary of the U.S. Department of Homeland Security, where he led the federal government's efforts to protect our nation from a wide range of security threats. Earlier in his career, Mr. Chertoff served as a federal judge on the U.S. Court of Appeals for the Third Circuit and head of the U.S. Department of Justice's Criminal Division.
---
Roland Cloutier
CISO of TikTok
Roland Cloutier is the Chief Information Security Officer of TikTok. Roland Cloutier brings an unprecedented understanding and knowledge of global protection and security leadership to one of the world's largest providers of human capital management solutions. Prior to ADP, Roland served as Vice President and CSO of EMC, was a United States Air Force Combat Security Specialist, and an Aerospace Protection and Anti-Terrorism Specialist for the Department of Defense. He also specialized in fraud and healthcare crime as part of the United States Department of Veterans Affairs.
---
Raj De
Partner at Mayer Brown & Former General Counsel of the NSA
Rajesh De is a partner in Mayer Brown's Washington DC office, where he leads the firm's global Cybersecurity & Data Privacy practice and co-chairs the National Security practice. Raj focuses on legal and policy issues at the nexus of technology, national security, law enforcement and privacy. Raj has held senior appointments in the White House, the Department of Justice and the Department of Defense. Raj returned to Mayer Brown in 2015 after serving as General Counsel at the United States National Security Agency. Prior to his service at the NSA, Raj served in the White House as Staff Secretary and Deputy Assistant to the President of the United States, and at DOJ as Principal Deputy Assistant Attorney General for the Office of Legal Policy.
---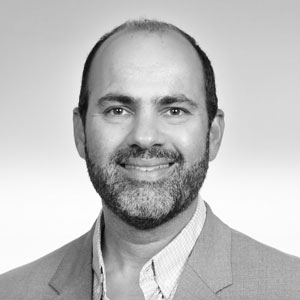 Adam Fletcher
CISO of Blackstone
Adam Fletcher, CISM, is the Chief Information Security Officer for Blackstone. As a security professional with over 18 years of experience, Adam has worked with global security organizations large and small including McAfee, Nokia, VeriSign, ISS and Accuvant. Adam has a strong technical foundation, developed from roles in security architecture design and implementation, that is complemented by management experience gained from roles leading consulting engagements and global teams of information security professionals. Prior to joining Blackstone, Adam led the International Security team for Equifax, coordinating a global security program across 14 countries, each with different business, regulatory, and privacy requirements.
---
Fred Gibbins
CISO of American Express
Fred Gibbins' bio to come.
---
Ron Gula
Founder of Tenable Network Security
Ron Gula started his cybersecurity career as a network penetration tester for the NSA. At BBN, he developed network honeypots to lure hackers and he ran US Internetworking's team of penetration testers and incident responders. As CTO of Network Security Wizards, Ron pioneered the art of network security monitoring and produced the Dragon Intrusion Detection System which was recognized as a market leader by Gartner in 2001. As CEO and co-founder of Tenable Network Security, Ron led the company's rapid growth and product vision from 2002 through 2016. He helped them scale to more than 20,000 customers worldwide, raise $300m in venture capital and achieve revenues in excess of $100m annually. Ron is President at Gula Tech Adventures which focuses on investing and advisement of cyber-security companies.
---
George Hoyem
Managing Partner, IN-Q-Tel
George Hoyem has more than 25 years of entrepreneurial, operations, and venture capital investing experience in high technology companies. At IQT, the strategic venture capital arm of the Intelligence Community, Hoyem is the Managing Partner for the IQT, West Coast Investment team and heads up the Enterprise IT investment practice area. Mr. Hoyem also serves on the Board of Directors of the National Venture Capital Association, the venture capital community's flagship trade association where he advocates for issues relevant to corporate and strategic investors.
---
Mike Janke
Co-Founder of Data Tribe
Michael Janke is a 6-time CEO and founder, accomplished entrepreneur and former member of SEAL Team 6. Mike is Co-Founder of Data Tribe – a unique startup studio, specializing in commercial technology startups focused on Cyber security and Data Science. DataTribe companies are built around technology developed by Intelligence agencies, defense, and research labs to solve large business problems using "over-the-horizon" technology. In addition to Data Tribe, Mike is a co-founder of Blue Pacific Studios, an LA based media content production company he founded along with Daniel Weinand the co-founder of Shopify. Mike has founded well-known companies such as SOC-USA, Silent Circle, Blackphone and SMGI Security. Mike is a board member of: DataTribe, Dragos, PreVailion, OP2Labs, MindBridge AI, and Blue Pacific Studios.
---
John Nai
CISO Of PayPal
John Nai joined PayPal in 2012 and as Chief Information Security Officer is responsible for oversight of Information Security across all of PayPal's business units. John's primary areas of focus are: security strategy, risk management, security assurance, threat intelligence, critical incident management, and M&A. John also participates in broad-based efforts across the technology organization to improve the design and build products, ensure industry-leading performance and push the boundaries of innovation through new and emerging technologies. John's prior experience includes 20 years at Charles Schwab building and managing highly available and secure Trading systems and platforms.
---
Douglas Powers
Director for Vigilant by Deloitte
Doug is a senior leader within Deloitte's Cyber Risk practice specializing in consulting for Fortune 500 companies, Federal Agencies, and State Governments. He has over 28 years of technical, operational, and leadership experience directing the U.S. Department of Defense's (DoD's) most complex global cybersecurity and intelligence operations. Doug has expertise in the areas of cyber threat intelligence and risk analytics, offensive and defensive cyber operations, cyber deception operations, directing large scale, global cybersecurity operation and fusion centers, vulnerability management, Internet of Things (IoT)/Industrial Control Systems (ICS) security and penetration testing, and leading cyber hunt, incident response, forensics, and red teams.
---
Jim Routh
Former CISO of Aetna
Jim Routh, formerly the Chief Security Officer for Aetna, is the Chair of the NH-ISAC Board. He serves as a member of the Advisory Board of the ClearSky Security Fund. He was formerly the Global Head of Application & Mobile Security for JP Morgan Chase. Prior to that he was the CISO for KPMG, DTCC and American Express. Jim is the winner of the 2017 Evanta Breakaway Leaders Award, 2016 Security Alliance Award for Innovation, 2016 ISE Luminary Leadership Award, the Northeast and the 2014 North American Information Security Executive of the Year for Healthcare, the 2009 BITS Leadership Award sponsored by the financial industry in collaboration with NIST and the Department of Treasury.
---
John Stewart
Former CISO of Cisco
John N. Stewart formed and led Cisco's Security and Trust Organization. Under Stewart's leadership, the organization's core missions included protecting Cisco's public- and private-sector customers, enabling and ensuring Cisco Secure Development Lifecycle and Trustworthy Systems efforts across the company's portfolio, and leadership in data protection and privacy, trust and assurance, and cybersecurity efforts with governments globally. He is a Board Director for ReFirm Labs and SpyCloudß, special advisor to the Board of Directors for Focal Point, RedSeal, and NSX, llc. (LSE: NSX) and is on the Syracuse University's College of Engineering Dean's Leadership Council.
---
Eli Sugarman
Program Officer, Cyber Initiative
Eli Sugarman is a Program Officer at the William and Flora Hewlett Foundation. He manages the Cyber Initiative, a ten-year, $130 million grant-making effort that aims to build a more robust cybersecurity field and improve policy-making. Previously, he was a consultant and strategist to private sector and nonprofit leaders. From 2009 to 2014, Eli was senior director at an emerging markets advisory firm based in Washington, D.C., where he provided strategic counsel on international policy, regulatory, and business matters to clients globally. He has served as a foreign affairs officer at the U.S. Department of State, where he focused on international security issues.
---
Phil Venables
CISO of Google Cloud
Phil is the Chief Information Security Officer of Google Cloud. He's a specialist in information & cyber security, cloud services, enterprise risk, technology risk and business resilience with significant experience in multiple industries and multiple geographies – from in depth engineering to Board-level management. He is also a member of the President's Council of Advisors on Science and Technology (PCAST) and a board member of HackerOne and Interos Inc.
---
Deborah Wheeler
CISO of Delta Airlines
Deborah Wheeler is currently the first, Global Chief Information Security Officer for Delta Air Lines, having joined the company in February 2017. Previous experiences include roles as Chief Information Security Officer for Fifth Third Bank, Ally Financial, and Freddie Mac, as well as Director of Information Security Program at JPMorgan Chase, and PNC Bank. Deborah is a board member of the Aviation ISAC (A-ISAC) and a member of the IBM Security Board of Advisors. Deborah has previously served as a Governing Board Chair for Evanta's CISO Executive Forum in Washington, DC, and has served in the same capacity for the CISO Executive Boards in Michigan and Ohio. Deborah has also served as a judge on the Washington, DC Women in Information Technology (WIT) board and as a judge for the Washington, DC SINET event.
---
Tom Wilson
CISO of Southern Company
Tom Wilson is Vice President and Chief Information Security Officer for Southern Company. He is responsible for managing corporate cybersecurity risk. Wilson joined Southern Company in 1989 and has more than 25 years of experience leading the application of information technologies to various areas of the electric utility industry, including infrastructure and security. He holds a Department of Homeland Security-sponsored Secret (S) level clearance and is currently being processed for a Top Secret – Secure Compartmentalized Information (TS-SCI) clearance sponsored by the FBI. Wilson serves on executive customer advisory boards of industry-leading cybersecurity companies including Palo Alto Networks, Hewlett-Packard and Splunk and regularly shares best practices and intelligence with Fortune 500 companies.
---